Feeding the 5000 in Trafalgar Square on the 16th Dec 09
3,909 views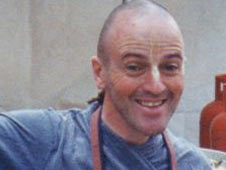 Parasuram das: The first snow of winter fell on Trafalgar Square as over 5000 people queued up for a delicious plate of Krishna prasad. The event was called "Feeding the 5000″ and it was organised to highlight the global problem with food waste. As Gandhi once said " There is enough for every ones need, but not every ones greed" The devotees were asked to organise the cooking of the free lunch. So the day before we got into a chopping of vegetables marathon. 20 volunteers came forward and chopped through the day. They loved it. The dharma of the soul is one of giving service. Cooking for 5000 is not so difficult for the Hare Krishna devotees as we cook more than this at the Glastonbury festival and we cook 15,000 plates at the London Rathayatra. We managed to get the prasad to Trafalgar Square 1/2 hour before the start and most importantly – it was delicious. The public were amazed by the size of the 3 massive pots. The devotees performed kirtan all the way through the serving, despite the snow coming down heavy. Other charities at the event were, Save the Children, Action Aid, Crisis, and FairShare.
movie here: http://matchlessgifts.org.uk/gallerysanta.html
[flowplayer src=http://matchlessgifts.org.uk/images/5000.flv, width=450, height=320]
[flowplayer src=http://matchlessgifts.org.uk/images/SANTA.flv, width=450, height=320]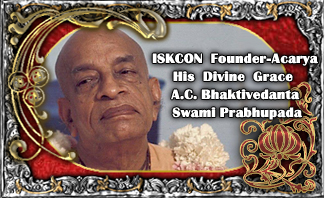 LATEST NEWS HEADLINES
ALSO IN THE NEWS
Sabbatical Course 2018
We have the next sabbatical course coming up this year which will start near the end of September 2018 and finish in May 2019. It's a 6 month course which includes a 3 month segment in India, visiting the holy places and a 4 month segment in the UK studying the scriptures and taking part […]
MORE STORIES
Social Media made easy
ADVERTISING

Click here to see advertised ISKCON projects and devotee business on this site
Vaishnava Calendar Reminder Service

Reminders sent to your email about upcoming events - Ekadasi, Festivals, etc. Click to subscribe.
MORE NEWS HEADLINES