Bhagavad Gita
6,027 views
Eminent scholars, scientists and philosophers have recognised the profound wisdom that the Bhagavad-gita offers. Gandhi once commented, "When doubts haunt me, when disappointments stare me in the face, and I see not one ray of hope on the horizon, I turn to Bhagavad-gita and find a verse to comfort me. I immediately begin to smile in the midst of overwhelming sorrow. Those who meditate on the Gita will derive fresh joy and new meanings from it every day."
What follows is a humble attempt to bring together some insights in the form of a short overview of the Bhagavad-gita. My aim is not to draw out every single philosophical point, but rather to highlight key concepts in each chapter. Hopefully this overview will assist readers in understanding the flow, context and practical application of these timeless spiritual teachings. It may also assist teachers of the Bhagavad-gita in their attempts to share this wisdom with others.
This small booklet is based on the Bhagavad-gita As It Is, translated by A.C. Bhaktivedanta Swami Prabhupada. His translation has revolutionised modern thinking, and each purport elucidates the incredibly profound life lessons that Lord Krishna imparts to Arjuna. I hope this humble attempt to share some of that wisdom will inspire the reader to study Srila Prabhupada's full translation which can answer every question, remove every doubt, and ultimately bring one face-to-face with Krishna, the Supreme Personality of Godhead. Above all, I undertook this exercise for my own spiritual growth, praying that someday I will genuinely live by these teachings.
Sutapa das
Bhagavad Gita A simple and concise overview of the Bhagavad-gita – Single Page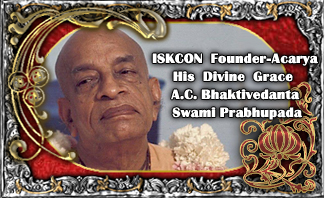 LATEST NEWS HEADLINES
ALSO IN THE NEWS
Sabbatical Course 2018
We have the next sabbatical course coming up this year which will start near the end of September 2018 and finish in May 2019. It's a 6 month course which includes a 3 month segment in India, visiting the holy places and a 4 month segment in the UK studying the scriptures and taking part […]
MORE STORIES
Social Media made easy
ADVERTISING

Click here to see advertised ISKCON projects and devotee business on this site
Vaishnava Calendar Reminder Service

Reminders sent to your email about upcoming events - Ekadasi, Festivals, etc. Click to subscribe.
MORE NEWS HEADLINES